Welcome to our Press Room
You'll find recent news coverage of Duke's Garage, press releases, spec sheets and more.

Contact Information:
For general inquiries contact Duke's Garage at 7111 Julian Street in Westminster, CO 80030 or via phone at 303-487-1355 and email at sales@dukesgaragellc.com
Press Releases:
Duke's Garage Introduces Collection of Electric and Gasoline Powered Vintage Porsche Replica Convertibles.
Spec Sheets (in PDF format):
Media Coverage: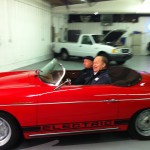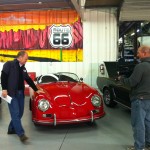 9 News – Where in the Town with Gregg Moss
Watch our live interview with Gregg Moss. 
Dan Daru, FOX 31 at Duke's Garage
Dan Daru interviews Duke's Garage LIVE for FOX NEWS
CNN iReport
August 17, 2011
Can electric cars also be fun to drive?
ireport.cnn.com 
Classic Car Reports
April 18, 2011
Plug in Pony: 1965 Mustang Goes Electric
classiccarreports.com
Gas 2.0
March 29, 2011
Duke's Garage Unveils Electrified Classic Porsche Replicas
gas2.org
Connect with Duke's Garage: